I would like to tell you a secret how to choose the basic, "working" anti-aging means for the skin, for another jar not to become a dormant in a fridge. The eye-creams review is published in a separate post.
Why it is very important
The first signs of physiological aging have become visible since 30 years : pores enlargement, skin color becomes dull and speckled, with visible dropsy and swelling under the eyes, as the result the face looks unhealthy and tired. It could seem that anti age creams can actually restore the situation, but the choice of them is a quite difficult thing to do, because you need to consider a lot of factors all together. The cosmetology market is simply inundated with offers, manufacturers each season propose us many new anti-aging products, positioning them as super-regeneration means. What do they promise? They declare to smooth not only mimic, but also the deepest wrinkles, restore skin tone, restore elasticity, "reset" 5-10 years just after its first application.
I mention some personal conclusions, they will help you to choose the right, really working , anti-age remedy. Please, note the components that you need to pay attention firstly. I would talk about only the ingredients with proven effectiveness in scientific studies.
Choosing the best anti-age cream
The first thing that pop into our head is since what age we can start applying anti-age remedies. It is important to understand that the anti-aging creams action is not determined to the results of physiological skin aging , but to the prevention of their destructive processes.
The purpose of the cream is to prevent the appearance of wrinkles and protect the skin from harsh environments: UV light, free radicals, humidity, wind, frost, toxic emissions.
It is important: the skin begins getting old from 25 years when fibrin and collagen are not produced in the sufficient amounts. From this age the skin treatment should become more active, the beauticians recommend to add preventive serums and masks to the daily usual day/night cream But at the age of 30+ years, this treatment is not enough, the skin needs carefully calibrated daily care, the remedies should be time-tested with feedback components.
There is no any universal piece of advice, one and the same cream treats different skin types in different ways. It is important to learn those necessary ingredients that make anti-age creams effective. Their effectiveness is approximately the same for all. Today, cosmetology declares the following well- known substances that contribute to rejuvenation:
vitamin C;
derivatives of retinol;
saturated acids;
coenzyme Q10;
peptides;
niacinamide (nicotinic acid analogue);
plant extrusions (not to be confused with extracts).
I would like to propose examining in detail each of the described components.
Essential vitamin C
It makes no sense to tell you about the antioxidant properties of vitamin C again. It would be enough to recall that it protects our skin from harmful UV rays, promotes collagen synthesis, stimulates cell renewal and opposes age-related changes in the dermis. As well as this vitamin smoothes and improves the complexion by destroying the pigment in the upper layer of the skin, giving elasticity to vessel walls.
Products with vitamin C can reduce the harm from sunburn, reduce inflammation and improve the protective properties of our skin. These qualities are useful to owners of mixed and oily skin type in their struggle with rosacea and acne.
Creams, in which vitamin C is the main active ingredient, should be applied in the morning, so they can protect your skin from the sun's rays and toxic street exhausts, and before you go sleep, contributing to an intensive process of cellular regeneration. If among your daily skin treatment remedies there are no creams with vitamin C, try to add them to the intensive care (for a weekend).
What products I prefer:

Mad Hippie Skin Care Products, Vitamin C Serum, 8 Actives, 30 ml
Serum based on vitamin C and ferulic acid.
The effect of this product using is similar to the famous serum "Skinceuticals", but this product price is more acceptable. For me it is one of the best remedies with vitamin C.


Andalou Naturals, Enlighten Serum, Turmeric + C, Brightening, 32 ml
Serum with well-balanced composition, based on Aloe juice with fruit stem cells and bioactive 8 berry complex, occupies a high place in my ranking;


Devita, Natural Skin Care, Skin Brightening Serum, 30 ml
Serum, gently smoothes the complexion. Main active ingredients: ascorbyl magnesium phosphate (vitamin C) and arbutin.
This serum is effective for all skin types that have undergone chemical peeling or has age spots and pigment spots.
Derivatives of retinol
Retinol has been used in cosmetics since the opening of this substance. Generally, the derivatives of fat-soluble vitamin can be found in the composition of anti-aging creams and products intended for the treatment of acne.
It is essential the synthesis of collagen fibres acceleration in the deeper layers of the skin, promotes the formation of so-called "frame", which accelerates the cell renewal process. It helps to reduce the appearance of deep and mimic wrinkles, bleach spots, enhance the skin's ability to retain moisture.
Remedies with retinol are used exclusively at night (on dry skin), because this vitamin reacts to ultraviolet light and it becomes the cause of the appearance of overly pigmented areas on the face. You should avoid these creams/serums, instead of it, I am using products with sun screens.
What I'll share:

MyChelle Dermaceuticals, Remarkable Retinal Serum, Anti-Aging, 30 ml
Serum aldehyde form of vitamin A, retinal stem cells in orange plants. Designed for sensitive skin, works gently, I use it even in summer. You can apply it in hot weather observing two conditions: the skin is accustomed to retinol; essential protection from the sun.

Aura Cacia, Organic, Rosehip Oil, Skin Care, 30 ml
Pure rose oil (rose Mosqueta), analogue of retinol vegetable origin. Oil is necessary for skin renewal and lightening the face, helps to smooth skin tone, it is better to use of it in the spring.

Mad Hippie Skin Care Products, Vitamin A Serum, 30 ml
Serum with vitamin A and bioretanol (green coffee extract).It accelerates the synthesis of collagen, a favorite component of such cosmetic brand as "Lancaster".
Saturated acids
Alpha and beta hydrogen acids are used as a natural exfoliant that removes the layer of dead cells from the skin surface. Skin polishing helps to level the surface and gives a healthy glow to the face. It is naturally, that the clear skin without any visible external defects looks much younger. These acids destroy certain cellular connections, thereby stimulating the regeneration of cells, reduce pigmentation, clear pores. The latter property is very important during inflammatory processes and acne.
Remedies with active acids are recommended to use before bedtime, apply on clean and dry skin. For a start, 1-2 times a week, after getting used daily. On top I usually apply a cream which has the active peptides in its content. In the morning I use the cream with a regenerative effect containing ceramides and Niacinamides.
My personal top list:

Derma E, Overnight Peel, Exfoliant Facial, 60 ml
Derma E is a night acid peeling with workable PH-balanced composition and optimum concentration of active substances. It goes perfectly for dry or sensitive skin.

Devita, High Performance Glycolic Acid Blend, 50 ml
Devita is an acid peeling for night use. Its watery texture is easily absorbed, acts gently, making it suitable for sensitive skin types and also for oily and capricious.

Devita, Natural Skin Care, Capillary Support Serum, 30 ml
Night acid serum, is indicated for treatment of severe rosacea and sensitive skin. Exfoliate gently and safely, it can be used rosacea.

Devita, Cool Cucumber Toner, 150 ml
Acid toner that cooperates well with a peel or serum with acids, the skin quickly becomes accustomed to acid care.
The first goes to apply toner, then serum acid. It can be used for extension of the cream effectiveness , the toner is used under it.

Mad Hippie Skin Care Products, Exfoliating Serum, 30 ml
Mad Hippie is a light glycolic serum with peptides. Here the glycolic acid serves as a vehicle for deep penetration of peptides and to moisturize the skin, but as exfoliating it works not so effectively.
Coenzyme Q10
It is a patented component that is required for the reduction of facial wrinkles around the eyes and for the skin protection from ultraviolet radiation. It used as an antioxidant, provides cells with additional energy, allowing them to recover faster.

Hyalogic LLC, Episilk, Coenzyme Q10 Face Serum, 30 ml
Serum, consisting of: jojoba oil, hyaluronic acid, coenzyme Q10, and all this on the basis of soft olive emulsifier, long-term moisturizing the skin.

Andalou Naturals, Revitalize Serum with Resveratrol Q10, Age Defying, 32 ml
Andalou Naturals is an intensive restoring serum with olive squalene, resveratrol, mansinam, cranberry juice, alginate from algae, oils of borage and evening primrose, rich in omega acids.

Peptides
There are many peptides in cosmetics and they are used for different purposes. We are interested in a specific peptide group, which members help to restore and renew the skin.
These peptides are included to the remedies for stimulating collagen production, which ultimately reduces the severity of deep wrinkles. The most popular peptides of this group are MATRIXYL 3000, MATRIXYL synthe'6, and Syn-Coll.
By themselves, the peptides do not show any activity, so before purchasing cosmetics you should carefully study its composition. It is important that other components of the cream/serum did not depress the action of the peptides and they allow the peptides to penetrate into the deeper layers of the skin. Otherwise they just remain on the surface and stay unusable.
I choose serums and oil formulas, but I also consider creams with peptides. I pay special attention to the means of copper peptides.
My list of remedies with peptides:

Mad Hippie Skin Care Products, Face Cream, 13 Actives, 30 ml
Is a face cream for all skin types with peptides Matrixyl 3000 and SYN-TACKS, Niacinamide, coenzyme. The composition of this cream is excellent, all components are chosen correctly, it gives visible results improvement of the skin density.

Life Extension, Collagen Boosting Peptide Serum, 1 oz
Is a serum with the inclusion of biomimetic peptides, for example, they are known for their effectiveness Thymopoietin. It is 10% to soothe face frame and 28% reduces wrinkle depth.

Reviva Labs, Nasolabial Fold+ Multi-Peptide Cream, 55 g
This is a cream that reduces the severity and depth of the nasolabial folds. It has no analogues in its effectiveness. This cream contains in its composition of peptides: Matrixyl, Progeline, Syn-ake. It is used with acids, has a special scheme for the application.

MyChelle Dermaceuticals, Supreme Polypeptide Moisturizers, Cream Unscented, 35 ml
Cream with black currant oil, effective peptides MATRIXYL synthe'6, and Syn-Coll. Helps to reduce the severity of wrinkles.

Madre Labs, Serumdipity, Anti-Aging Facial Oil with Peptides, Anti-Wrinkle Skin Care, 30 mL
Is a mild oil for face with peptides palmitoyl tripeptide-1, stimulating the production of collagen, and palmitoyl tripeptide-7, depressing the synthesis of anti-inflammatory cytokines, reducing the risk of skin damage during inflammation.
Analogues of nicotinic acid
Niacinamide is the best known analogue of nicotinic acid that is used in cosmetic products. Often, this component can be found in therapeutic products designed to restore the natural protective skin barrier. This is one of the most effective antioxidants that :
reduces moisture loss;
promotes skin elasticity;
helps renew and heal with enlarged pores and acne;
reduces irritation to sensitive skin;
restores damaged lipid barrier.
Means contained Niacinamide are recommended to use before bedtime, because the cell regeneration at night goes much faster. This cream is great for recovery between courses in acid peeling.
My list of best remedies with Niacinamide:

CeraVe, PM Facial Moisturizing Lotion, 89 ml
Is both, a lotion and a cream, its main active ingredient is Niacinamide, in combination with the ceramide.I use it as a supportive remedy in complex with retinol products to restore the skin's protective barrier after acid purification.The main characteristic of this brand is the focus on problem skin recovery functions from eczema and hyperreactivity.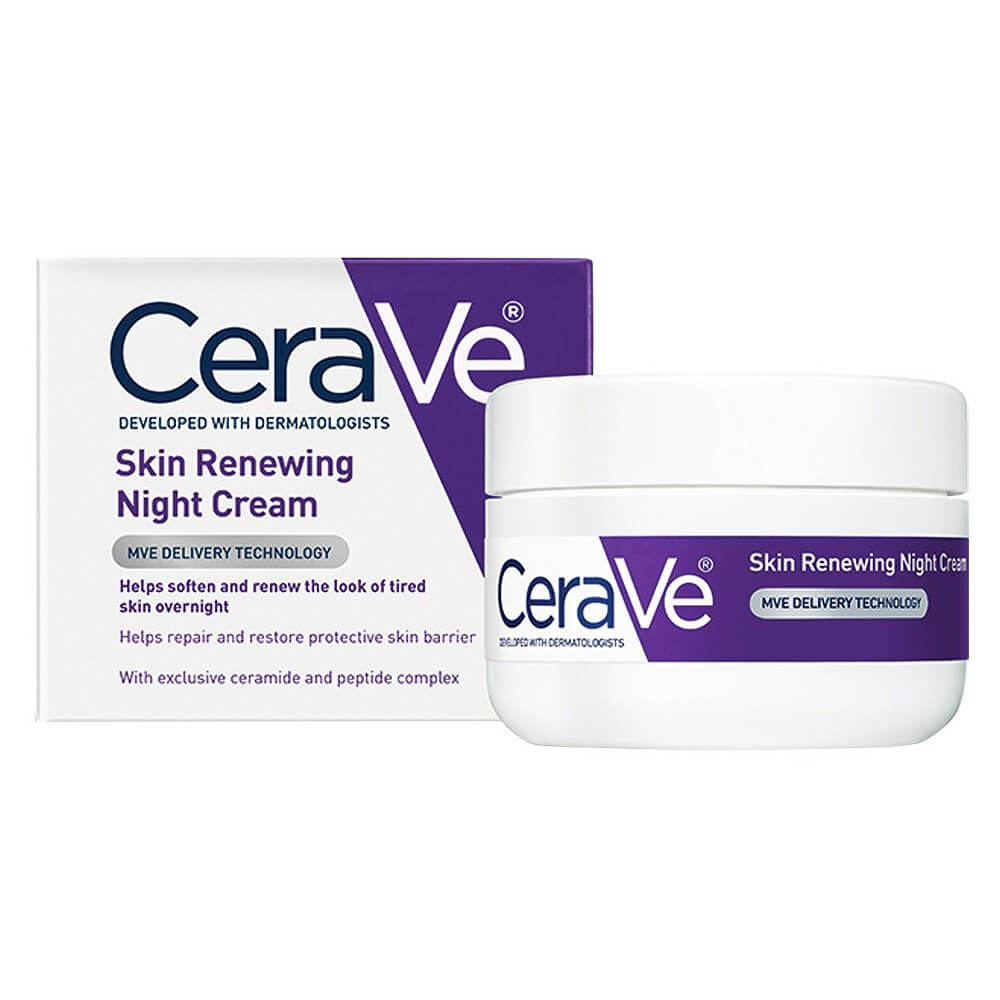 CeraVe, Skin Renewing Night Cream, 48 g
CeraVe, "Skin" night cream with ceramides, Niacinamide, ChroNOline peptide.
It counteracts the process of age-related degeneration of the skin, fights the effects of photoaging, restores the skin after prolonged irradiation with ultraviolet light;

Missha, Time Revolution, The First Treatment Essence, Intensive, 150 ml
Essence of intense action, with Saccharomyces and Niacinamide.
It designed to give the skin a glow, and due to its effectiveness can be considered as the budget equivalent of essence "SC II".

Missha, Time Revolution Night Repair, 50 ml
Serum concentrate with copper peptides and Niacinamide, designed to rejuvenate the skin.It is used as a final step in evening skincare


EO Products, Ageless Skin Care, Hydrating Face Moisturizer, 59 ml
One of the my favorite moisturizer in the composition is ectoine, Niacinamide, peptides and an extract of snow algae. It moisturizes and nourishes the skin, improves its elasticity.
Natural components, OMEGA-acids
It is known, that optimum concentration of natural components allows to achieve the antioxidant and anti-inflammatory actions. This is necessary to speed up the regenerative processes and helps to improve intracellular metabolism. This group includes polysaccharides, oils, certain omega-acids, and resveratrol.
Why should we add in skincare extracts from medicinal plants? It is useful for restoring the skin's protective barrier, combating excessive dryness and dehydration, eliminating rosacea, acne, reducing inflammation for dermatitis and eczema. The oils of black currant, borage, sea buckthorn and evening primrose are usually helpful.
Oils and creams on the basis of the omegas I recommend to apply before you go to bed. So the skin will recover faster and oil "seal" the fluid and useful minerals.
A list of products with vegetable ingredients:

Acure Organics, Seriously Glowing Facial Serum, 30 ml
Is an oil-serum with the skin healing oils argan, borage (borage) and cranberry, rich in omega acids. It makes the skin become firm and radiant. For all skin types.

Aroma Naturals, The Amazing 30 Cream, Anti-Aging Multi-Functional, 60 g
Cream with oils rich in omega-acids: sweet almond, jojoba, grapeseed and apricot stones, avocado, sea buckthorn, borage, evening primrose, alpha lipoic acid. Cream is all purpose, because it is suitable for winter and summer, apply both morning and evening. It also can be used around the eyes.


Weleda, Pomegranate Firming Serum, 30 ml
Weleda a light water-based serum for tightening the contours of the face with the juice of aloe Vera and pomegranate, extract of millet, rich in silica; the extract of the bark of wild plum and essential oils. Suitable for any skin type.