So, at this time I will concern a subject of coconut oil. It is unbelievably amazing product, represented in several variations. Nowadays both have big popularity refined and non refined oils.
Generally people use it in cosmetic purposes: for skin and hair. But, actually, if use only clean coconut oil not in mixes its efficiency will be less than from other oils. As if obviously it sounded coconut is intended for meals and it gives maximal usefulness for an organism if take his vitamins in natural way.
Why is it so good food product?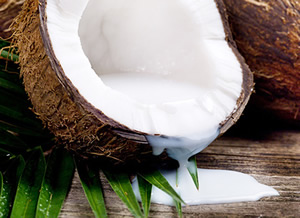 Coconut oil very beneficially differs from other oils by its carbon chain, to be exact, its length. It is shorter so easier to split. The process of splitting occurs faster and useful substances don't turn into reserves of fats in undesirable places of body. Opposite, they give energy and favorably influence on function of liver and digestive tract. There is active ingredient lauric acid, which helps our organism to develop immunity from wide range of pathogenic organisms. Interesting fact that lauric acid is also contained in breast milk. Plus, it might be used for prophylactics of such unpleasant implementation as thrush or herpes. Also, coconut oil contains myristic acid relating to fatty acids; it is useful to improve the production of collagen fibers and elastin thanks to which our skin are made young and elastic.
Intake of coconut oil as prophylactics
Here I want to emphasize that coconut oil IS NOT a drug, but closer to vitamins and minerals. So for health support it might be taken at psoriasis, for adjustment of weight, for improvement of metabolism, acceleration of process of digestion of nutrients. And also you can use it to decrease in risks of emergence of heart troubles and violations of pressure.
Storage
One more good thing in this oil that it is absolutely "unpretentiously" in storage conditions. This is because it has in its composition natural antioxidants, which provide freshness. And at high temperatures it doesn't spoil, only passes into a liquid state.
Types
As cosmetics: is not for food; wasn't exposed to so careful cleaning as ones for food, or it has substances in its composition, which don't let oil to harden at low temperatures.
For food: is suitable both for food, and for care; also producers suggest a line of organic products (guarantee safety and maximal benefit).
Oils for food can be both refined and not refined. In brief I will describe their advantages:
Refined does not have smell; is used for frying. Actually, better to fry on coconut oil, because it isn't postponed in an organism as other oils, creating at the same time risk of development of cancer tumors.
Non refined – incomparable aroma! It is possible to add to different pastries or just to fry on it fritters, cheesecakes … It is processed by method of a cold press and at the same time keeps all the tastes.
Other variants of usage not refined coconut oil:
Smoothies from fruit or vegetables to add couple of spoons and to mix the blender – it turns out tasty and at the same time oil won't get pieces.
In porridge – is very nutritious and it is useful; gentle oil taste.
Replacement to butter – literally can be smeared on a sweet roll : ).
For me I have opened very good usage of not refined coconut oil: in the moments when is better to say "no" to any food I eat one tea spoon of coconut oil. Saturation comes quickly and, besides, improves a metabolism, that is, all these factors promote weight loss!
Below suggest a list of my recommendations at the choice of the producer
1. Nature's Way Organic Coconut Oil ($12.49/454 g) – not refined.
It has perfect quality, extra-class, natural composition – without additives, only butter. His smell submits! I add to pastries (previously having kindled), it turns out smartly! This oil is certainly in a top.
2. Jarrow Formulas Organic Extra Virgin Coconut Oil ($11.20/454 g) – not refined, organic
Fragrances and solvents free. It has got by first extraction. Oil is saturated and fragrant, but not so as from Nature's Way and a little cheaper.
3. Nutiva Organic Coconut Oil Refined ($7.52/444 ml)– refined, organic
Despite this oil is refined it has soft taste similar to butter and also a little smells of a coco. In the course of preparation oil is cleared by means of steam – without harm for an organism.
4. Jarrow Formulas Organic Coconut Oil ($7.84/454 g) – refined, organic
No smell and no taste. This one also has perfect quality without excess additives and impurity. Receiving is by method of a screw extraction. It is convenient for frying anything. Also, plus is that for cooking it needs to be added less, than usual oil.

As you see, variants and producers of coconut oil is enough to choose which one is the most appropriately exactly for you. In this post I have concerned only a subject of coconut oil, there is also a set of the tastiest coconut products about which I tell in this post.