In this post I am going to tell how to choose a correct facial toner (tonic). This narration is exclusively based on my personal experience, long-term procurement of natural floral waters and Hydrolat from major European manufacturers, and also, due to my long term experience in applying these waters for natural face creams and good solutions of water, named  tonics (toners).
What is a tonic for the face?
Let's start with the fact that denotes its familiar definition.
Facial Tonic – is an aqueous solution consisting of Hydrolat or floral water or aqueous infusion, or simply water, with the addition (or without) herbal extracts and essential oils. This "relish" is created not only for face cleaning , but for its moisturizing and toning, with accompanying with all that nice bonuses which are  effected by the components that are added to its composition.
When is it best to use a facial toner?
Facial tonic is better to use  immediately after cleansing the skin by special cleaning agents and before applying the cream. Other way to use it after you washed away  the clay (or other) face mask: after a mask it  is better  to  spray skin tonic onto a face , and then apply a cream or oil for the skin (eg, oil rose Domascus).
Also one of the ways of tonic using for a person is to carry in your purse in the summer and they moisturize the skin, pre-clean it with a damp cloth.

What is floral water?
Now let's find out the essentials. The crucial  question is  that: how to choose the "right" tonic for the face depends on this basic knowledge.
The concepts of "Hydrolat", "floral water", "scented water" and "water infusion" are  totally different in fact, and  the quality of tonic for the face depends on this fact .

What Hydrolat (distillate hydrosol, distillate, hydrosol)?
Hydrolat – is a water distillate of plants. The process of distillation goes on as follows: the water is heated to the boiling temperature  in one pot, the stream from that pot goes upwards, and upper there is a large sieve or a special container with plants or parts of plants (for example, rose petals for rose Hydrolat). The steam passing through the petals (or other parts) incorporates valuable plant's substances (as well as essential oils), and then it  goes through the tubes into the "cooler", where it converts back to water, but it becomes enriched with essential oils and other components. Essential oils – are natural alcohols, which possess a preservative effect.
My own Hydrolats which were made in the country's house, saved almost a year just in the shower cabin without any additional preservatives.
What is fragrant (aromatic, floral), water (distilled water & essential oil)?
This is just only distilled water (Distilled Water), enriched by the essential oil of the plant, "after which" fragrant water is named. As any essential oil can not be mixed with  water, it floats only on its surface, firstly the oils are  diluted in polysorbate  and only then  polysorbates  can be added into distilled water , this process  makes the solution homogeneous. And, of course, the process occurs without the using distiller.
However, alcohol and preservatives are added to extend the shelf life of this kind of water.
What is the "water infusion"?
This is water herbal potion, infusion (or decoction) on the petals of flowers or other parts of plants. For example it is the same as familiar to us "tea": tea leaves, filled with boiling water, and infused for a while time. This infusion contains the water-soluble components of raw materials; essential oils are only in the remnants there.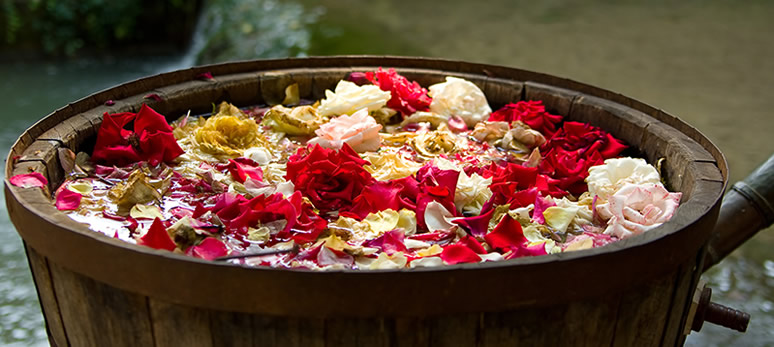 The infusion or decoction quickly deteriorates, so it is required to add various preservatives.
Conclusions:
The best variant  for the skin is Hydrolat (hydrosol distillate), because it is filled with the most valuable substances plants and essential oils. And is it IMPORTANT. Let me explain why.
100% essential oil of rose of Damascus costs from 8 to 15 thousand euros per liter in  the market of raw materials (I do not take the final point of sales and logistics) 1 mL prepacked essential oil Bulgarian rose, not French original  starts from 1500 rubles at "decent sellers, but no brand" and from 3000 to 7000 rubles from the "brand."
Hydrolat (distillate) rose Damascus or tsentifolii costs an average of 300-400 rubles (US $ 7-14). 100 ml.
This Hydrolat contains valuable essential spirits rose because  , it is distilled two or three times through fresh rose petals and it has become already a  by-product of the essential oil of rose (because the essential oil is extracted only by steam distillation of the petals , the result of this process is pure essential oil and rose distillate).
To spray rose Hydrolat on a face is very useful for the skin because the skin also gets valuable essential oil particles.
Hydrolat (distillate),

due to the fact that it is naturally enriched by particles of essential oil

acts on the skin very softly and does not cause any allergies.

Flower water in which the essential oil added "by force" acts more aggressively and can irritate sensitive skin.

Hydrolat are not preserved or preserved only by soft preservatives, as they naturally possess  dissolved natural preservatives – essential oils.


Floral water

and aqueous infusions may contain quite "powerful" preservatives,

as they can be damaged much faster.
Hydrolat " purchase" from  the Supplier will always cost more than the floral water. Because Hydrolat production takes more natural and expensive raw materials, in contrast to the flower (fragrant) of water, which is added only small amount of natural essential oil (although a little quantity, because the flavor will still be strong), and in the case the expensive essential oils (like a rose) will not be added, changing their flavor in a specially created mixture of molecules, natural, but produced from cheaper oils. Such molecular-alcohol mixtures give the same flavor as pure expensive essential oil does, but they are much cheaper, and also they can be rightly referred to "natural" (and the sheep are safe and wolves are fed).
Thus, the fragrance of roses  is carefully "obtained" from a mixture of alcohol molecules produced from the cheep essential oils of palmarosa and geranium, or those sorts of roses that are not are suitable for production of an expensive essential oil (for example, rose Crimean can not match the price and Quality Rose French or Iranian).
A  good facial  tonic must NOT contain!
⇒a word" fragrance" in the initial lines  of its composition and obscure phrases associated with it. Such as:
• fragrance (natural rose) – refers to the aroma of roses, identical to natural or natural oil rose for a fragrance?
• lavender lemon & other essential oils, flower & gem essences – what are "other essential oils?" and what are  the floral and precious essences such? )))
⇒ mineral oil and silicones. They will only clog the pores.
⇒ «serious» preservatives such as paraben, methylchloroisothiazolinone and methylisothiazolinone.
⇒ surfactants. Tonic is  not foam to cleanse the skin.
Let's learn the example of the composition of the two tonics
It is extremely popular on iHerb tonic for the face of the Thayers (4666 reviews)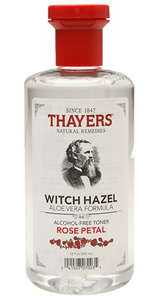 Thayers, Rose Petal Witch Hazel, with Aloe Vera Formula, Alcohol-Free Toner, 12 fl oz (355 ml) — 8,60 $
Purified water, aloe vera juice, vegetable glycerin, fragrans (perfume with the scent of roses), not distilled witch hazel extract organic, floral water Rose tsentifolii, citric acid, grapefruit seed extract, vitamin E.
We observe that "in fact" it  is a mixture of ordinary water, aloe juice, which enriched  by glycerine cosmetic perfume with the scent of roses, and for the purification of conscience there has been added to flower (fragrant) rose water (not Hydrolat) and natural preservative group in the form of citric acid, vitamin E and grapefruit seed extract. The price is given according to its  composition and volume, however, the manufacturer is quite honest and does not charge an exorbitant price.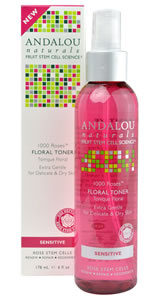 And new facial  tonic of the Andalou Naturals Floral Toner, 1000 Roses, Sensitive, 6 fl oz (178 ml) — 10,36 $, which has got  only 24 reviews. But I have already received from the same collection Body  Butter, the post about it comes later, so firmly convinced that there just has everything, what is written in the ingredients
Aloe vera juice, distillates rose Damascus, d-panthenol, vitamin E, lauric acid, the active complex Fitotselltek (stem cells alpine rose, Swiss apple and grapes + bioactive complex extracts 8 berries, as well as moisturizing, softening complex, consisting of hyaluronic acid extract of magnolia bark, stem cells and leaves of fig trees of Indian incense extract (resin boswelia), as a part of pomegranate extract, hibiscus and white tea, soft preservatives and essential oils of tangerine, rose geranium and roses tsentifolii.
We will see that the water-based tonic makes it Hydrolat (distillate) rose Damascus and aloe juice. Then different supplements ( they are cool! By the way)))) and some essential oils are added.
I would like to notice  that I had already ordered the Butter for the body from this new series, but nevertheless  I strongly doubted that it contains  Hydrolat Rose Damascus (I can differ by the scent Hydrolat of floral waters, as I have been working for 15 years  among the  natural cosmetic raw materials -it is an invaluable experience). But, to the great joy and surprise, Hydrolat was added to the cream, and it was my darling rose, rose Damascus. And the amount was enough , because the flavor was quite intense, and especially it was  not spoiled by  other components. Therefore, the toner and the same, "rose" series, I'm  sure that it contains everything you need.
From my point of view, a series of Andalou Naturals «1000 Roses» is very successful. And, due to the coming New Year holidays, I'm  sure that the products of this series are real quality and a good gift.
What is tonic for a person to choose on iHerb?
I have checked up the section "Face tonic" on iHerb and selected the most appropriate options, in my opinion. I show my "list"))).
Tonic for oily skin: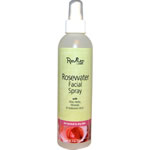 Reviva Labs, Rosewater Facial Spray, for Normal to Dry Skin, 8 oz (236 ml) – 6,30 $
There is rose distillate  at the beginning of the composition, and it  contains aloe, glycerin plant extracts (the label says "for dry skin", but checking  the list of extracts, I am more inclined to believe that this tonic is better for oily skin), food preservatives.


The Grapeseed Company Santa Barbara, Lavender Rose Toner, 4.4 oz (130 ml) – $ 16
It is the mixture of distillates (Hydrolat) witch hazel, rose Damascus and lavender with aloe juice, grape seed extract, white willow and essential oils of tea tree, lavender and rose Damascus.


Alaffia, Skin Recovery Facial Toner, Neem & Shea Leaf, 3.4 fl oz (100 ml) – 11,16 $
This tonic is made  on Hydrolat lavender, with the addition of wonderful antiphlogistic -water extracts for oily skin and skin with acne: the leaves of the neem tree and shea (African wood), plus essential oils of lemongrass, lavender and tea tree.

I do not recommend this tonic for  acne skin and  acne rosacea, any  tonic does not suit for the treatment , as the  acne is  treated by other remedies
Tonics for normal, dry and aging skin:

Andalou Naturals, Floral Toner, 1000 Roses, Sensitive, 6 fl oz (178 ml) – 10,36 $
This new product is written above, I consider it very successful, based on testing of the product of the same series.


Acure Organics, Facial Toner, Balancing Rose + Red Tea, 2 oz (60 ml) – 13,81 $
It is the mixture Hydrolat (distillates) rooibos, calendula, witch hazel, chamomile and Bulgarian rose, plus a vegetable glycerin.


Morningstar Minerals, Derma Boost, Rejuvenating Spray Mist, 8 fl oz – 11.99 $
Unlike of usual mineral water it contains wide spectrum of minerals and the most important are organic molecules (amino acids), which are delivered to cells of our organisms in the best way.
Toner leaves pleasant feelings after each applying. Using this spray-toner you will feel as skin of face and area around eyes becomes more elastic and tightened.
See more in the post: Thermal water and toner "mixed into one"

Here it is and all, perhaps. I hope could help you with the selection of tonics for the face and understanding that you need to "look for" in the composition.