I almost have not taken into consideration the fact that starting from the beginning of summer we should avoid using of Aha-acids and retinoids till the autumn. Of course, it is a natural question: how to take care of skin in summer? What should we use during hot days, in addition to sunscreen? The first thing I would like to tell is about creams-blockers tyrosinase.
Tyrosinase and melanin: what is it?
When the first rays of the summer sun touch the delicate skin of the face, the risk of hyperpigmentation increases, which is quite problematic to get rid of. It is therefore recommended in the summer to use creams-blockers tyrosinase.
Everybody knows that our skin contains the melanin, darkening under ultraviolet light. We call this process the sun-tanning and enjoy it so often. Tyrosinase enzyme controls melanin production, not allowing the skin to become too dark, which, moreover, is an excellent prevention of malignant transformation of the skin. However, not only the sun causes production of excessive amounts of melanin, there are other factors that we cannot prevent.
Properties of melanin
When the skin under the influence of tyrosinase produces melanin, it begins to accumulate in the melanocytes in the form of melanosomes. Melanosomes are able to penetrate the epidermis, causing the melanin desposition on the surface of the skin (by the way, not always evenly).
On the one hand, our own melanin that covered the upper layers of the skin, is meant to protect us from UV radiation, but even the people, the owners of very dark skin, have got protection index not greater than 4, that is, of course, quite insufficient to prevent different kinds of problems.
Uniform and non-uniform pigmentation
If you do not abuse the sun, you get a smooth and nice tan – uniform pigmentation. However, some factors can provoke a non-uniform pigmentation, in other words – the appearance of spots. They are:
Prolonged exposure during the sun activity time;
Hormonal imbalance;
Pregnancy;
The use of hormonal contraceptives;
Rejuvenating laser treatments;
Age.
The resulting spots are difficult to disappear, the process of their to elimination requires a lot of effort and limitations.
Of course, the complicated cases of hyperpigmentation can be the indications for treatment in the hospital, but for those who faces the problem of only a few small spots, there is a way easier to use creams that are inhibitors of tyrosinase consisting solely of biocompatible components.
Please note: the products of such a plan, are recommended to use only during periods of maximum solar activity, because all of them, regardless of manufacturer, contain silicone, although not causing much harm, but still not too useful for our skin. And keep in mind that the silicone is part of most modern cosmetic products, and hence the skin and so receives it in abundance, so you need at least sometimes to give her some rest.
Tyrosinase blockers in cosmetics
So the more fair skin you have, the stronger you are in need of cosmetics, that is able to block the production of mentioned enzyme, because you have very low self protective threshold, and therefore a high probability of not only sunburn, but also much more serious problems. An important point: natural beauty products, unlike chemicals, are not able to block the production of tyrosinase completely, so the desired tan you will get obviously, but it will not harm your skin.
When choosing cosmetics, pay attention to the presence in its composition of the following components that can not only lighten the skin but also slow down the synthesis of tyrosinase:
Hexylresorcinol. It is extracted from rice and is added to almost all cosmetic products, its purpose is skin whitening. This amphiphilic lipid from the class of phenols, which is characterized by several unique qualities. One of them is the high bioavailability. As a component of cosmetics, hexylresorcinol lightens the skin several times more efficient than the recognized leader in this sphere– hydroquinone, taken in equal concentration. During ongoing studies, this substance was compared with several bleaching remedies(licorice root, Niacinamide, retinol, various forms of vitamin C) , and all indicators were found. This component is a leading one.


Hexylresorcinol have got another advantage: it is well established as an effective antioxidant and anti-aging tools.

Vitamin C is required in summer in sufficiently high concentration, since only in this case it will be able to perform all functions assigned to it. So, it is recommended to take vitamin C at a dosage of at least 1500 mg per day.
Niacinamide.
Ferulic acid.
Licorice extract.
Cosmetics in the programme for the skin protection from hyperpigmentation in the summer.
The most products are not too affordable, from the products range available for the purchase of ordinary consumers. For example, the product including only one and the cheapest blocker tyrosinase, Niacinamide, starts its price from $ 15. Thus, multicomponent remedies cost close to a hundred dollars, and it is only one remedy offered by the manufacturer of the range! Someone may argue that there are relatively cheap bleaching creams, but firstly – they do not block the tyrosinase, and secondly- they contain acid, the use of which in the summer is unacceptable.
My list of purchases from iHerb to protect the skin from stains in the hot summer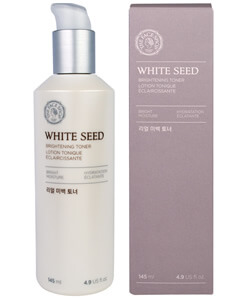 The Face Shop, White Seed, Brightening Toner, 145 ml — 16,95 $
The aid of beauty products comes from Korean manufacturers. For example – a great tonic, that includes not only hexylresorcinol and Niacinamide, but rather expensive bleaching extracts of Daisy and Lupin white. Also the extract of white willow bark is present in this tonic that have a pore-narrowing, antibacterial and anti-acne effects as well as beta-glucans.
The properties of beta-glucans are worth mentioning separately, because they:
help restore skin after sunburns;
heal small wounds, cuts, acne spots;
they are great moisturizers by film type, they are allowed to use even for children;
relieve the skin from inflammation and irritation;
support collagen and fibroblasts production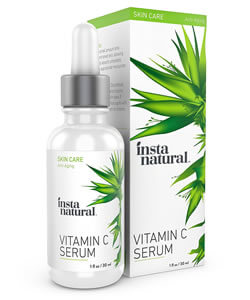 InstaNatural, Vitamin C Serum with Hyaluronic Acid + Ferulic Acid, Anti-Aging, 30 ml — 15,26 $
It is another great beauty product for summer 2017, and in General – this rejuvenating serum can be a salvation for those who are prone to hyperpigmentation, a bestseller 2017,that should be used as part of the program for the protection of the skin from age spots. Its effectiveness is due to the fact that it contains:
Ferulic acid. This is one of the few components, which help to transport all the useful components of the product in the deeper layers of the skin. The ingredient brightens the skin, evens, causes an anti-inflammatory and soothing effect, is an excellent antioxidant, and also cares about retaining all the vitamins included in its composition.
Vitamin C. The main component responsible for collagen synthesis. Able to align fine lines and improve skin texture. It strengthens blood vessels, and therefore very useful for those who suffers from rosacea on the face. In addition, the presence in the cream of vitamin C helps to lighten existing pigment spots and prevent the appearance of new. Daily use of cosmetic products containing vitamin C contributes to, if not extinction, then certainly to reduce the severity of acne spots and acne.
In addition to mentioned, the serum containts a lot of useful and known for its cosmetic properties components: aloe Vera, hyaluronic acid, oat extract, vitamin E, oil of rose mosketa, kelp extract, rosemary extract, oil limnantes Alba, the stem cells of Swiss Apple, argan oil, the most valuable anti-aging oil, carrot seed, avocado oil and raspberry seed, hesperidin, Centella asiatica extract, hibiscus extract, grapefruit essential oil, sea buckthorn oil, extracts of daisies and white lupine, white willow bark and seeds of quinoa.
As for the tyrosinase blockers they are in serum: Niacinamide, hexylresorcinol and squalane.
If this serum is not available in stock, a replacement is The Face Shop, Lightening serum White Seed, 50 ml — of 21.93 $, just from the Korean line above mentioned the tonic. There is a high concentration of tyrosinase blockers: hexylresorcinol, chamomile extract and squalane, as well as white lupine and Daisy (bleach), hyaluronic acid (moisturizes and rejuvenates), extracts of the seeds of quinoa and white willow bark.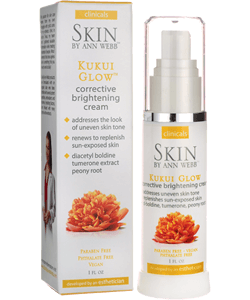 Skin By Ann Webb, Kukui Glow, Corrective Brightening Cream, 1 fl oz — 17,44$
The night cream from the oil of the Nut of the Kukui Tree should be applied after using the tonic and serums to strengthen and consolidate the whitening effect, containing:
hexylresorcinol,
extract of peony root (bleach),
Niacinamide,
aloe Vera gel (moisturizes),
turmeric extract (rejuvenates and brightens),
the seed oil of black currant and Kukui nut oil (rich in omega-acids, and therefore able to restore the lipid barrier),
Shea oil and macadamia oil (nourishes the skin and heals its microdamages).
Recommendations for the use of summer programs:

all products are all-in-one — suitable for day and night care
we should add always sunscreen care in the day
if you use a cream with peptides or muscle relaxants in your day treatment, then, under these creams it is better to apply the brightening serum and alternate them with Corrective Lightening cream from oil of Kukui nut Tree.
If you compare the cost of the described products, so it is about equal to the price of just one product of any popular brand, but it contains acid that encourages the skin to formation hyperpigmentation. In addition, all these products contribute to the protection of the skin, its nutrition and rejuvenation, and that means – would be enough to buy three products of this program to protect your skin during the summer!