Grapefruit seed extract (GSE) – a powerful plant natural antibiotic. Let the word "antibiotic"  not scare you.
Unlike conventional antibiotics that can selectively influence only on the bacteria, GSE has got a detrimental effect on the bacteria, germs, viruses and microorganisms, including fungi and parasites. GSE contains glycosides and  bioflavonoids which work the way so that the cells viruses, fungi and bacteria can no perceive the aminoacids that usually serve their nutrition and they have to  die.
Thus, GSE is non-addictive, non-toxic, no side effects such as allergy and destruction of beneficial microflora, which is also very important for human health, unlike the synthetic antibiotics act. In addition, the GSE can be successfully applied to small children and animals treatment.
My experience GSE using : I was giving it to  the baby of 2 years during  the flu treatment, the throat was crimson, the temperature had been keeping for 5 days,I  dripped it 5 drops directly into the bottle  3-4 times a day. On the 6th day the illness finished abruptly without any coughing and any consequences.
The recovery comes on 2nd or 3rd day if the cold is common and the medicine is given immediately. My son of  6 years old, often suffers from  intestinal infections –the  recovery comes on the 2nd day. All mums are recommend to take it with you for the journey.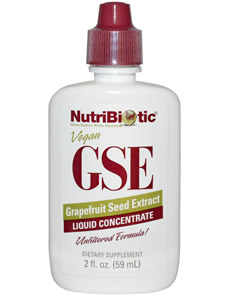 So, we will continue. NutriBiotic, GSE Liquid Concentrate, Grapefruit Seed Extract, 2 fl oz (59 ml) activates the body's defenses during a special exposure to SARS and influenza (flu). It is very important to use it  at the first symptoms. It is perfect for mouthwash because it  treats bleeding gums, periodontosis, discomfort in the throat during a bad cold, it  removes bad breath. It is an indispensable tool in the medicine box of  every mom. When it is diluted with water it works like an disinfector, and it can be taken inside as an antibiotic. It is used in the early stages of the disease candidiasis (thrush), nail and foots fungus ,viral diseases, influenza, herpes,it  solves all the problems of the oral cavity, especially stomatitis.It is also used  in the treatment of helminths and their prevention. Herpes, seborrhea, psoriasis, dermatitis of various origins are cured with the help of this remedy. Each bottle has got a recipe for every occasion.
Application method and dosing and grapefruit seed extract:
ATTENTION!
NOT APPLY TO THE SKIN UNDILUTED, NOT TO GIVE CHILDREN TO PLAY WITH! VERY CONCENTRATED LIQUID!
DO NOT TAKE INSIDE, NOT DRIP INTO THE NOSE AND EYES UNDILUTED EXTRACT! IT CAUSES THE BURNS OF MUCOUS MEMBRANES!
For treatment of the respiratory tract and ENT:
1. The nose inflammation and paranasal sinuses (sinusitis), colds, flu, runny nose. Dilute 3 drops per 100 ml. of boiled water. Drip this solution  into the nose  2-3 times per day.
2. Lungs inflammation, bronchitis, cough, asthma. Dilute 20 drops of 100-200 ml. water or juice and take 2 times a day. It should be taken for asthma treatment during at least 3 months .
3. Sore throat, tonsils (tonsillitis, tonsillitis, laryngitis, pharyngitis). Dilute 10 drops with a glass of warm water and gargle the throat 5-7 times per day with this solution.
4. Otitus. Mix 3-6 drops of grapefruit seed Extract with 30 ml. glycerin, drip into the ear 1-2 drops 2 times a day or as needed.
5. Conjunctivitis.Mix 1 drop of grapefruit seed Extract and 30 ml of water. Drip two drops into each eye every 2 hours during the acute phase of disease , for  further treatment limit the applying up to  four times per day.
For treatment of the digestive system:
1. Infections, sophagus, parasites, fungi. Add  from 3 to 15 drops in a glass of water or juice, Dilute take it every day for a month.
2. Stomach ulcer  (duodenal), heartburn, gastritis. The affected areas are very sensitive, so it  is better to start with small doses, gradually increasing them: Dilute 3 to 15 drops in a glass of water, take 2-3 times a day before meals. If there is a  Helicobacter in the body – the treatment should last at least 2 months and only take place under the supervision of a physician.
3. Intestine  infections, constipation, flatulence, diarrhea. Mix  3-5 drops in a glass of water, take 2-3 times a day. As the remedy for prevention of diarrhea during trips, you can add 3-4 drops of grapefruit seed Extract to every beverage  during each meal.
4. Dysentery. In case of dysentery 30-day course of treatment is highly recommended. The first 2 weeks: dissolve 10-15 drops in a glass of water or juice, take it once a  day. On the third week: dissolve 15-20 drops in a glass of water or juice, take it once a  day. On the fourth week: dissolve 20-30 drops in a glass of water or juice, take it once a  day.
5. Food poisoning. Dilute 10-30 drops in a glass of water, take 2-3 times a day.
6. Allergy to food products . Dilute 3-10 drops in a glass of water, take  2-3 times a day.
The treatment of  skin diseases, skin problems and mucous:
1. Nettle rush, hives, shingles. Dilute 10 drops of extract in 2 tablespoons of vegetable oil. This solution should be applied with a cotton swab onto the affected areas two times a day. When purulent inflammation of the skin is observed , it is important to dry the affected area of ​​the skin before applying the solution.
2. Rush . Put 20 drops per tablespoon into  the  oil, rub it into the skin of the whole body.
3. Dermatitis. Put 3-5 drops per tablespoon of any oil, rub it 2-3 times a day onto the affected area.
4. Psoriasis, atopic dermatitis, urticaria.Put  3-5 drops of extract on a tablespoon of jojoba oil, apply it on irritated skin.
5. Eczema. Dilute 8-10 drops of the extract, with 100 ml. boiled cooled water, stir it. The affected areas of the skin dry and moisten the received solution. Leave for 3-5 minutes and rinse with water body temperature. Then, strongly dilute aqueous extract wash the sore spots once again and very thoroughly.
6. Problem-prone skin (acne). Moisten the skin, then with your fingertips apply 1-4 drops on problem areas, massage, rinse. Do not apply grapefruit seed extract  more than 2 minutes on  dry skin. For sensitive skin it is recommendable before rubbing , the extract should be diluted with water. If you squeezed a pimple – then disinfect the wound with 1 drop of extract on a wet finger.
7. Dundruff diseases of the scalp, head lice. Add 5-10 drops in a small amount of shampoo and wash the head with this solution. In the presence of lice leave the shampoo on your head for 30 minutes for an effect, then rinse your head. Repeat this procedure after 3 days.
8. Scratches, abrasions. Put on 1 drop dripping wet finger – treat the wound.
9. Skin wounds . Put  3 drops per tablespoon of water – moistened with a bandage.
10. Herpes lips, cracked lips. Mix 4-5 drops with  1 tablespoon of jojoba oil. Lubricate the lips several times a day.
11. Warts . The undiluted grapefruit seed extract apply directly to the wart 2 times a day.
12. Varicose veins and trophic ulcers. Dilute 30 drops per 100 ml. water. soak the bandage with the solution and apply it onto the sore areas (no open wounds) for a  night.
13. Fungy  diseases of the skin and nails. Lubricate the affected places several times a day, 10% grapefruit seed extract solution (water, oil or glycerol) or pure extract (5 drops dripping wet on his hand).
14. Inflammation nail bed. Put  3-4 drops pure extract three times a day, careful massage applied to the sore spot. Do not rinse. Other way is to put 5 drops per tablespoon of oil. Apply it several times a day.
15. Mastitis.Put  8 drops per tablespoon of massage oil and lubricate the breast.
16. Vaginitis, thrush. mix  1-3 drops of grapefruit seed Extract and  2-3 drops of tea tree oil 1/4 l. water handle swab dipped in a solution. Or squirt the  solution of 2 drops of extract in a glass of warm water.
17. For intimate care. Put  1-2 drops on a wet towel .
18. Heavy  sweating. Mix  20-25 drops extract and  100 ml. water pour into spray bottle. It can be used as a deodorant. Other way is to  drip 2 drops on a wet palm and rub into the area of ​​sweating (armpits, legs).
19. Diaper  dermatitis (of infants).Mix  5 drops of extract with a tablespoon of jojoba oil, lubricate the natural folds of the skin.
20. Piles. Put  30-50 drops in a bath with barely hot water – to take half a minute.
21. Bites insects. Put 1 drop of pure extract drip on a wet finger, lubricate the bite. Ifit is  the tick's bite you first need to remove the insect.
22. Corns add 30 drops to the foot bath. After such treatment the corns are easily  can be  removed.
Mouth cavity treatment:
1. Gums inflammation and  bad breath. Add 5 drops into a glass of water. Rinse with this moisture for 10 seconds, 1-2 times a day.
2. Caries, periodontal disease, periodontitis. Apply  1-2 drops on a wet toothbrush, brush your teeth with it , and then rinse your mouth with the solution of 10 drops of extract.
3. Thrush in the mouth cavity of children and infants . Add 1-10 drops (depending on the child's age) in a glass of water , apply a soaked cotton swab of 2-3 times a day.
4. Oral ulceration.Add 1-10 drops into a glass of water (depending on the severity of the disease) – rinse with it  your mouth or 2-3 times a day apply a cotton swab dipped in a solution.
5. Toothbrush disinfection . Dissolve 5-10 drops of the extract in water, sink the  toothbrush in this  solution for 15 minutes, rinse it with fresh water.
Use at home:
1. Floor wash . Dilute 50 drops per 10 liters of  water.
2. Erasure mould on the walls and ceiling. Add  15 drops in a glass of water – Spread this solution with help of pulverizer.
3. Room disinfection. Add 20 drops to 1 liter of any detergent.
4. Carpet cleaning.Mix 20 drops with 1 liter of  water. Use this solution to clean the carpet.
5. Heavy  odors removing . Drip a few drops on the glaze floor.
6. Disinfection (washing) of food products (fruit, vegetables, meat, fish, eggs, chicken, etc.). Dilute 20 drops to 1 liter of  water.
7. Disinfection dishes (including child) and kitchen surfaces. Dilute 20 drops to 1 liter. water.
8. Shelf  life prolongation of food  products. Dilute 20 drops to 1 liter. water – sink a  product in the  solution for several minutes. Shelf life can be  increased for 4-5 times.
9. Linen rinsing .Put  20 drops into water for rinsing.
10. Plant handling (control of pests, mold and so on.) Dilute 30 drops of 1/2 – 1 liter. water and  spray it  at the desired location.
11. Water disinfection. 10 drops of 1 liter of water.
12. Pools disinfection. 20 ml. 100 liters of water.
13. Cosmetics shelf life prolongation . Add 1 drop in a cream, gel, shampoo, etc.
Precautionary measures:
Grapefruit seed extract is not toxic and does not cause  any subsidiary effects like, for example, tea tree oil causes.
In order to avoid damage to the mucous membrane it is forbidden to take  undiluted pure grapefruit seed extract inside.
The grapefruit seed extract can be taken only under a doctor's permission for longer that 6 weeks
Contra-indication  of grapefruit seed application.
Many scientists consider that this excessive enthusiasm to this citrus is dangerous for postmenopausal women, it  may cause breast cancer. It is not recommended to consume grapefruit during liver disease, because of the substance furanocoumarin, which is  contained in this fruit, helps blood concentrations. Beware of excessive consumption of grapefruit, especially  women whose  is  taking hormonal birth control pills because of the citrus juice  reduces the effectiveness of their actions. To eat grapefruit is contraindicated for people suffering from gastritis with high concentration of gastric acidity.
GSE must not be combined with approximately 50 medicines: immunosuppressants, antibiotics erythromycin, antihistamines, heart, hormonal, anticancer. This is connected to the fact that grapefruit has got special substances which inhibit the liver, resulting in slower withdrawal of drugs from the body.