Winter is its climax, and I continue to tell about the means of the immune system support and the effective treatments of upper respiratory tract infections, bad colds and flu for children and adults. It is the best time to check the medicine chest, because a muddy cold spring is coming with traditional exacerbation of viral infections. Today I propose a post about the extract of propolis (bee-glue) – as an universal magic wand.
I can be absolutely calm and save, using this remedy, because I study the role of propolis extract for strengthen the immune system and the treatment of viruses, bad colds and coughs, it is also helps to cure any inflammatory diseases 2 times faster than others remedies and prevents any complications.
This season, as usual, my family did not get an influenza vaccine injection, because I consider it senseless act, as the influenza virus is constantly mutating, and the vaccine is not a panacea, such as the propolis is, which has got a lot of advantages.
What is propolis?
Propolis (bee-glue) is a product of beekeeping, which is a miracle of nature and a present of industrious honeybees. Propolis is also called a bee glue, because it looks like sticky substance that bees form of vegetable juice deciduous, coniferous and other plants, mixing it with his own saliva and pollen. The propolis is used for the construction of honeycombs in the hive, to caulk the holes in it, and also bees use it as an effective sterilizing antimicrobial agent for embalming big enemies, which are too difficult to expel them from the hive. Thus, propolis helps to stop the spread of bacteria, viruses and fungi, as well as it stabilizes the internal climate of the hive.
The useful properties of propolis
Propolis is the strongest natural antibiotic, because the spectrum of its influence is very wide. It slows the growth and destroys bacteria such as staphylococci and streptococci, mean while scientists have not found any bacteria yet that would be able to adapt to propolis.
Bee glue kills not only bacteria but also viruses (influenza virus and herpes), fungal infections, parasites (such as giardiasis, giardiasis).
In folk medicine, it is often used to treat diseases of the upper respiratory tract, sinusitis (including highmoritis), sore throat and runny nose.
Propolis has got properties of strong local anesthesia, it is superior to Novocain in 5.2 times. It is a powerful stimulator of the immune system of humans and animals, it increases immunoglobulin enhances, the activity of leukocytes, and improves blood flow to organs, activates biochemical processes in the desired direction.
Propolis contains plant flavonoids, they have got powerful antioxidant and anti-inflammatory properties, it is so extremely important for cancer treatment, because propolis inhibits the growth of cancer cells without exerting a toxic effect on the body.
However, anti-toxic properties make to use propolis as effective remedy for diphtheria, scarlet fever and tuberculosis.
Propolis flavonoids have got a beneficial effect in diseases of the joints, skin and mucous membranes.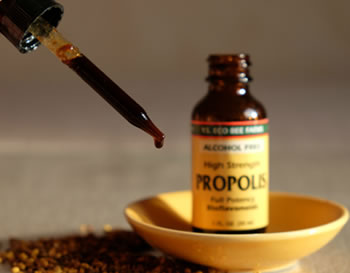 Now I turn to the tincture of propolis without alcohol from YS Eco Bee Farms.
This unique non-alcoholic product is impossible to find in our pharmacies, only alcoholic extracts of propolis are available for sale. Iherb liquid propolis from producer YS Eco Bee Farms has got a rich aroma and high resin concentration. See what it is thick and dark, and it contains all the power of flavonoids!
This kind of propolis I was looking for my child: it must be of high quality, non- alcohol, for long-term use to prevent influenza and acute respiratory viral infection, it also must not cause any toxic effects.
An important fact is that the scientific data confirm that the aqueous extract of propolis has got stronger antioxidant properties than the tincture on alcohol does, besides it does not dry out the mucous, it is more recommended for children, drivers, athletes, pregnant women (during toxemia of pregnancy).
How to use propolis extract for cough, cold and SARS treatment.
I use a non- alcohol tincture of propolis for the prevention of respiratory diseases throughout the autumn-winter period for my child, and if he has fallen sick already – I use it as a herbal antibiotic for cough, acute respiratory infections and colds treatment.
For prevention: 1/3 volumetric pipette of propolis extract to drop into a glass of water or tea. It is enough for 60 doses (one month application, twice a day for 15 drops).
For the treatment of diseases: The dose should be increased up to 1/2 pipette and should be added into a glass of warm milk + some drops of alkaline mineral water + a teaspoon of honey. Propolis tincture can be used for gargling the throat, you need to add 6-7 drops of volumetric pipette into a glass of water.
But for yourself, you can take more concentrated alcoholic extract of propolis, it can also be used as a course of prevention against parasites, gargling the throat and for gum disease:
Y.S. Eco Bee Farms, Propolis, 50% Super Strength, 1 fl oz (30 ml) (in it 50% alcohol)
Y.S. Eco Bee Farms, Propolis, 70% Ultra Strength, 1 fl oz (30 ml) (in it 70% alcohol)
There are more variants in capsules, is a more economical: California Gold Nutrition, Bee Propolis 2X, 500 mg, 90 Veggie Caps, the course lasts for 90 days for prevention, and 45 days- for the treatment.
Y.S. Eco Bee Farms, Propolis 1000 90 Veggie Caps – it's hit version of propolis on iherb, the dose of it is more in 2 times than Californian, but its hard to catch it here, especially during the period of seasonal allergies.
The action of propolis (bee glue) can increased, if it is taken, not only with honey, but also with royal jelly, in this case, anti-microbial and immunological properties of propolis increase significantly and the effect of suppressing the virus will grow.
Royal jelly is from a reputable producer Now Foods, Royal Jelly, 1500 mg, 60 Capsules, it lasts up to 60 days.
There is an interesting complex of YS Eco Bee Farms, Royal Jelly, Bee Pollen, Propolis, 90 Capsules, which contains royal jelly, pollen and propolis, and it is enough for 45 days. But there are less active ingredients in one capsule in 3 times than you take these products separately.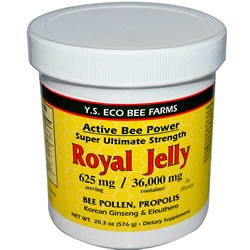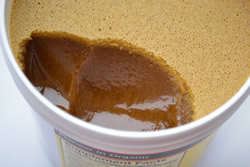 For the child I recommend getting here this vital combination of: a mixture of honey, royal jelly, Korean ginseng, Siberian ginseng, propolis and pollen YS Eco Bee Farms, Royal Jelly, 20.3 oz (576 g), this product generally deserves a separate post :).
I would like to add on the using any form of propolis.
If a doctor prescribes antibiotics – you can easily combine them with propolis. The fact is that propolis intensifies their effect, it promotes the removal of foreign material and reduces the level of poisoning and infectious stress level, meanwhile the grapefruit seed extract (also a natural antibiotic)slows down the drugs removal from the body.
Contraindications to the propolis (bee glue) use are
Allergies to bee products (honey, pollen, bee venom).
It is prohibited reception alcohol tincture for diseases associated with disorders of the liver and kidneys, and during the alcohol dependence.
Propolis is truly a priceless gift of nature, Counting the multiplicity of its beneficial effects