Recently I have been searching for high-quality fish oil for my mother, which is presented in the online store iHerb, where one can find a wide range of oils from various manufacturers, and where a newbie can simply be confused from such plentitude of range.
The very notion of fish oil is very generalized. Its useful properties are significantly different, depending on what kind of fish it is produced. The greatest wealth of fish oil is the omega-3 group of polyunsaturated fatty acids (DHA and EPA), it is mostly found in marine fish which lives in cold water: salmon, trout, salmon, mackerel. Except the fat, these kinds of fish contain valuable animal protein, plus their taste is amazing.
Generally , there are many sources of information already written about the usefulness of fatty acids in the Internet, I will not repeat it once again, I only highlight why my focus is concentrated on the source of omega-3 from polar salmon:
This kind of salmon lives in clean water, and its fish oil is free of toxins. For example, tuna and mackerel, farm-raised may contain traces of mercury and other heavy metals that usually accumulate in their bodies, it can only harm your health. However, the fish which is grown in the farm contains omega-3 like the sausage sandwich, the polar salmon gets omega-3 from algae which it eats in the sea, on contrary the fish from the farm eats useless combined feed.
According to science studies, omega-3 from polar salmon affects the human biological aging process. Fatty acids DHA and EPA prevent the reduction of the end parts of chromosomes and telomeres, thus they are slowing the aging; the acids have got beneficial effect on brain cells, preventing the development of problems with memory and attention, caused by age-related changes or diseases. Experiments on laboratory mice have shown the result that the rich diet of omega-3 extended their life expectancy for third.
The regular eating of polar salmon oil improves thyroid function, promotes the normalization of metabolic processes and activities of the cardiovascular system — as a result, prevents the development of many serious diseases.
How to calculate the dosage of omega-3 fatty acids?
The preventive dose: 32 mg of EPA and DHA of 450 grams.
The therapeutic dose is (if you suffer from the problems with the cardiovascular system, athletes): in 3 times more.
The list of the best products from fish oil is mentioned in this review, these products are extracted from muscles of cold-water fish, and they contain the maximum amount of omega-3 which is prepared by the method of molecular differentiation. This method improves the useful properties of fish oil.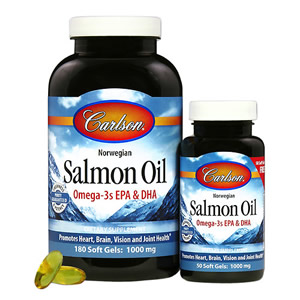 Carlson Labs, Salmon Oil, 1000 mg, 180 + 50 Free Soft Gels
An impressive package with a small present of 50 capsules from the American manufacturer Carlson.
Sources of omega-3: contains over 50% fat Norwegian salmon and other fish — anchovies, sardines, mackerel.
It reserves the heart health, brain health, vision health and joints health.
The quality, freshness and purity is guaranteed.
Omega-3 EPA & DHA — 500 mg per portion (2 capsules).
The content of omega-3 fatty acids is 50% of total fat
It is gluten and preservatives free.
Controlled by the FDA laboratory on the purification from harmful substances: mercury, cadmium, lead and 28 other contaminants.
It also contains natural Vitamin E (as g-alpha-tocopherol), which prevents the oxidation of fatty acids, known for their ability to decompose easy and quickly. Besides, it slows down the aging process of the skin and human body.
Application: it is recommended to take 2 capsules once or twice every day, at mealtime.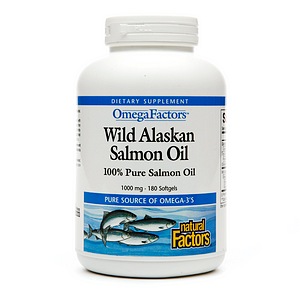 Natural Factors, Omega Factors, Wild Alaskan Salmon Oil, 1,000 mg, 180 Softgels
The product made by Natural Factors, Omega Factors contains
100% pure salmon oil
with a natural ratio of almost 1: 1 EPA to DHA.
All the products of Natural Factors production are manufactured in accordance with Canada's government regulation concerned the manufacturing processes (GMP), that is one of the highest standards in the world.
It contains Omega-3 EPA & DHA 267 mg per portion (1 capsule)
The content of omega-3 fatty acids is 27% of the total amount of fat.
It is better to combine this omega with multivitamin complexes, because of the small amounts of vitamins in its composition.
Application: it is recommended to take 1 capsule once or twice daily, at mealtime.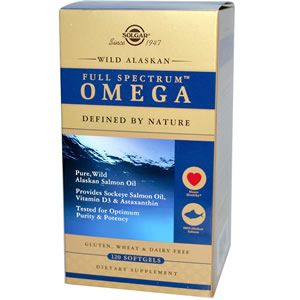 Solgar, Full Spectrum Omega, Wild Alaskan, 120 Softgels
This product by Solgar production attracts by its extremely balanced composition,
it contains a wide range of Omega oils (3, 5, 6, 7, 9)
. Studies have confirmed that the presence of other fats in the fish activates processes required for optimal absorption of omega-3 (EPA and DHA).
It contains
vitamin D3 in its natural form (as cholecalciferol)
, and
Astaxanthin
— the most powerful and safe antioxidant, fat-soluble carotenoid that gives the characteristic bright color to salmon. Astaxanthin possesses a lot of benefits for us, they are such as from preventing many diseases to prolonging the youth of our body, in detail I wrote about it here.
It is 100% pure salmon oil from the cold waters of Alaska.
With vitamin D3 and Astaxanthin.
The rich composition: omega-3, omega-5, omega-6, omega-7, omega – 9
Omega-3 EPA & DHA — 550 mg per portion (2 capsules).
The content of omega-3 fatty acids is 23% of the total amount of fat.
Fish oil by Solgar, it is a popular manufacturer that has been cooperating in the healthy diet market since 1947,the oil passed the purification process of removing heavy metals, including mercury and other environmental contaminants , nevertheless it saved optimal integrity of the oil.
Large soft capsules of bright orange color, can be easy swollen. They are recommended to everybody, especially to those who is older than 40 years for supporting their cardiovascular system and brain function.
Application: 2 capsules a day during meals.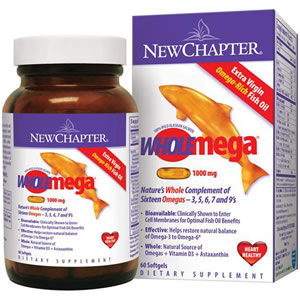 New Chapter, Wholemega, Whole Fish Oil, Extra-Virgin Wild Alaskan Salmon, 1000 mg, 120 Softgels
The Salmon oil made by New Chapter, Wholemega
is similar to the previous product from Solgar by its composition, but due to more complicated technology of production, its price is much higher.
The manufacturer states, that Wholemega is a different product. The oil extraction
technology is a cold pressed process
like olive extracted oil, that impresses by ts color and transparency. This gentle way of extraction saves many healthy ingredients — including
vitamin D3 and Astaxanthin
. The brilliant tint Wholemega comes from Astaxanthin — an antioxidant that naturally can be found only in wild salmon and in this cold pressed oil.
It is 100% pure salmon oil from the cold waters of Alaska.
With vitamin D3 and Astaxanthin.
The rich composition: omega-3, omega-5, omega-6, omega-7, omega – 9
Omega-3 EPA & DHA 520 mg per portion (2 capsules).
The content of omega-3 fatty acids is 26% of the total amount of fat
Application: 2 capsules daily during meals.
I wish You a pleasant choice and savings at the online store of iHerb!