It is the  first time I have tried store-bought eye patches! And I would like to share my opinion about them with a great pleasure, I am going to leave it in my blog. What can I say? The result is visible and it is  , as they say — on the face.
Previously, I made all the patches solely on my own, I chose my desired composition, prepared it and soaked cotton pads with it. But this procedure requires free time, which is always not enough. Then I started to buy ready-made formulations, the formula of which instilled confidence in me. I treated my skin with them and , of course, I  do not forget to use ice cubes of made different tonics regularly.
I received in my last order basket along with the series for autumn care from Jeffrey James Botanicals and vitamins, the sample patches of Korean Petitfee, Gold EGF Hydro Gel Eye Patch from the new entry of Korean cosmetics in iHerb, so I could not resist but  tried  it. The particles contain  gold from Petitfee. They are gorgeous! I am eager to describe them!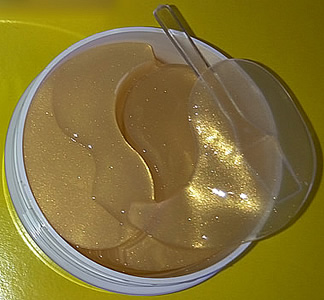 Hydro-gel is presented as a specific gold jelly, in which silicone patches are "floating". The gel has such composition that I ignored my negative attitude to the methylparaben, which is  used in this gel  as a preservative. I'd like to notice  that Koreans generally like to use different parabens and there's no escape from it.
Also there is some mineral oil, but it is  present so small quantity that this component is noted in the end of the composition list. Most likely it is  used by the manufacturer to improve the "spreadability" of the product.
Сeratoniasiliquagum, xanthangum, chondruscrispus (carrageenan) — conduce to a gel structure. A great combination of carob bean gum is able to soften and moisturize the skin with polysaccharides, natural xanthan and carrageenan are derived from algae. They are responsible for the skin  tightening and help smooth fine lines.
Pinus palustrisleaf extract— a pine extract, which contains high amounts of vitamin C, it is involved in the production of collagen. In addition, the extract contains my favorite carotin, that  really works like magic  with the skin.
Bambusa textilis stem extract — an extract of bamboo stem. This component is positioned like a must-have in  patches for the eye lids skin. It performs tonic and moisturizing effect, helps to get rid of puffiness.
Important: the extract of bamboo is often used as the main component of funds from varicose veins and swelling. It is part of ointments curing hematoma and vascular network, and it  is a component of the "niche" of anti-cellulite creams.
Citrus grandis (grapefruit) seed extract — an extract of grapefruit seeds, is well known as  one of the most effective antioxidants for the skin. By the way , it prevents the entry of bacterial pathogens in the composition.
Scutellaria baicalensis root extract — an extract obtained from the root of Baikal skullcap. It is often used in treatment cosmetics from Estee Lauder, Clinique, Erborian, Darphin, Payot, Missha, Caudalie, etc. It  prevents the aging process, allowing it to be used by women from  age 25+, it brightens and tightens the skin.
Houttuynia cordata extract — an extract, which grows in the  island Houttuynia in the North of Thailand. The cancer drugs are made on the basis of extracts from this plant. As a cosmetic ingredient is useful by its possibility to  accelerate the lymph flow, improves blood circulation and reduces swelling. As a bonus this extract is a powerful antioxidant and it removes toxins from skin cells.
Artemisia vulgaris extract — an extract of Artemisia and wormwood. This variety of wormwood is planted in the Alps. This extract used in cosmetic products is supplied to market by  the largest European company Alpaflor. This is one of the leading manufactures, which supplies the major brands of the world's best cosmetics products.
The effect of Artemisia use has been repeatedly confirmed by the laboratory tests: in-vitro tests for antioxidant capacity of organic extract. The researchers  used most advanced equipment PHOTOCHEM ®, the properties of the extract were compared with the properties of vitamin C. It should be noted that Artemisia antioxidant properties are more prominent, compared with the   analogous vitamin C. This allows to regard the extract of wormwood as an indispensable cosmetic remedy in the fight against Chrono – and Photo- ageing. It is required to include in cosmetics for cell renewal after sun exposure.
There are a lot of oligosaccharides in  wormwood extract ,thus it is increasing the density of the layer of fat fiber under the skin. A layer of fat fiber has a minimum thickness under the skin around the eyes, therefore, the compaction process is extremely important for rejuvenation. It  reduces the looseness of fiber, that is why it is possible to increase the degree of elasticity and firmness of the skin, and this effect leads to the  smoothing of wrinkles.
Caviar extract. This active substance is useful for the stimulation of cell regeneration, and it  acts as a powerful antioxidant, improves microcirculation, it also is responsible for the rejuvenation, moisturizes and strengthens the skin.
Acacia seyal gum extract — an extract of the resin Senegalese acacia. At its time, it was a real "boom" in the effective active ingredients for anti-aging cosmetics. This resin helps to form a thin polysaccharide gels, which possess the most desirable qualities for high-class cosmetic products: such as  to soften skin, to reduce inflammation and irritation, to  provide with deep and long lasting hydration, to treat the  damaged skin.
Caffeoyl tripeptide-1 peptide is an antioxidant with anti-inflammatory action. And caffeic acid refreshes, prevents stagnation of fluid in the skin and tissues and whitens the skin.
Rh-oligopeptide-1 (1ppm, 0.01%) — is both a peptide and a growth factor. It is  essential as a growth factor that increases collagen production, skin smoothing and leveling a fine mesh of wrinkles around the eyes.
There are gold particles, extracts of rosemary, lavender, chamomile, aloe, green tea and other medicinal plants  in the composition of the patches . Hyaluronic acid and other useful components, such as betaine, which is  softening and smoothing the skin.
How to use patches
Together with the patches in the package there is a plastic spoon, designed to extract these  patches and spreading them  on the skin. But for me, this way is inconvenient.
So I use a proven method:I just take the patches with my hands and apply them as I like.
Immediately, after application it is better  to lie down for a few minutes for the jelly does not drip and not displace the  patches. When  the gel dries and absorbs ,  the patch becomes firmly fixed and it will not be able to move out.
Usually I use them for half an hour, then I remove. To describe  their real effects: when the skin around the eyes is  lethargic, swollen and depigmented after another sleepless night it has become lighter, more elastic and  perfect. And jelly I use for the face. At the end of the procedure just applied the powder and go to do my business.
 Summary.
For me, these patches have become one of the favorite remedies of "ambulance" and they are always present  in my dimensionless refrigerator for cosmetics. This product really works! I feel only one regret, that the patches are sold out too quickly, so you need to immediately take stock for a few months. And the price is just "fantastic", because  the package is enough for more than a month.
These patches are  relevant for 25 years, and for 35, 45 and so on…