With cold weather, we exchange our clothes — pick up our jackets, gloves, boots… The most sensitive place is our face. It suffers from many harmful factors: cold, wind, frost, rain, central heating, temperature ratio. These conditions influence on blood circulation, they slow down the processes of cell renewal, our  skin fades, micro cracks appear, flaking, redness, skin dryness increases. The treatment program should be changed in case to avoid all these troubles.
The choice of  winter facial cream is based on a simple rule: day winter cream should be nourishing and night winter cream should be hydrating. This is the basis of the winter skin care. This treatment keeps the hydro-lipid balance that is why our skin will be healthy and well-groomed.
I would like to offer you a range of protective and nourishing creams for the autumn-winter period from my favorite organic cosmetics shop  iHerb.com,  these creams would give you a complete care. Also facial masks are effective in the  face care support too. In fact the cold affects the eyelids and lips, how to choose protective solutions, see here.
I would like to underline that the selected creams are not useful only for dry skin, but also they are needed for all skin types in terms of temperature changes, frost, wind, generally for all those, whose skin begins suffer in winter and refuses to take her usual care. That means, even if your skin is not dry, but it began to react to the frost by redness, dryness and strong irritation, you can use such thick creams, but just you better put a thin layer. Heavy textured winter creams have one disadvantage – the skin almost does not respire underneath them. So, when you come  home, it is better clean the face immediately.
Regenerating winter creams have a dense buttery texture, they contain oils, ceramides and lecithin in their composition. The manufacturers create rich, heavy textured creams even for oily skin type.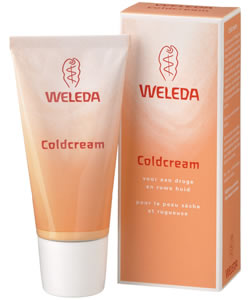 Weleda, Cold Cream, for dry and very-dry skin, 1 FL oz (30 ml) The brand Weleda offers us a nourishing cold cream for dry and very-dry skin, which perfectly protects the skin from cold and windy weather. Vegetable oils and fatty acids (sweet almond) nourish and moisturize the skin, prevent its irritation, eliminates dryness and roughness, repair its moisture balance. As beeswax is included to the cream's composition, it creates a breathable layer that protects from moisture loss.
Your skin becomes smooth, soft and fully prepared to meet environmental conditions.
This cream is a thick texture, but it absorbs well. Its color is light-ivory ,it smells  pleasantly, light fragrance of some herbs.
I recommend to use it as a day cream. For all ages starting from 18 years.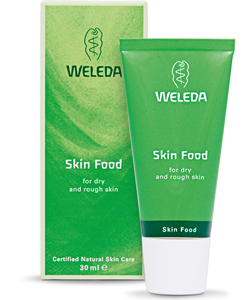 Weleda, Skin Food  2.5 oz (71 g)
Universal nourishing cream Weleda Skin Food received the title, "food" for the skin. Thanks to extracts of viola, chamomile and calendula, all the damaged skin areas recover quickly, especially dry and red areas, skin peeling stops, these extracts  harmonize skin's structure and calms  it down. The cream  contains a lot of lecithin!
It is suitable for daily skin face and body treatment (hands, feet, elbows) — especially for dry or rough skin. Also it is convenient to take with you  on trips, because one tube has a wide application and it replaces several standard products for the heels, hands, etc.
The cream texture is heavy, oily, but it absorbs quickly and leaves no film. Its fragrance is wonderful: a bit of lavender, citrus and pine needles. It is packaged in a metal tube.
For all ages starting from 18 years.
Christopher's Original Formulas, beauty facial cream 2 oz
The original cream formula from Christopher's is designed to help restore the skin's health, hands and nails, rough skin, stretch marks, etc.
It is the one of my winter must-have, indispensable in the cold season, as a  nutritious SOS tool, that can be used as a day and night cream.
This cream has 2 important factors for winter care : it does not contain water, and it is 100% vegetable-fat-based.
The oil from the wheat germ, which is one of ingredients, has useful properties: it helps to maintain the softness and elasticity of the skin, it  eliminates wrinkles on the face , the neck and the skin around the eyes, it helps to fight with distressed, rough skin, cracks, roughness and chapped lips and hands. This oil also prevents stretch marks after weight changes and pregnancy.
The moisturizing effect of olive oil makes this cream a great one  for night treatment  in winter. This effect is formed due to the ability of oil to hold the required amount of liquid in the skin without closing the pores. This cream "kills three birds with one stone": at night the skin nourishes, moistures and breathes.
The texture of the cream is very thick and greasy, the fragrance is natural, herbal, must for everybody. It absorbs for a  long time  (20 minutes). If you plan to apply makeup — I recommend to apply a napkin after 20 minutes, to remove excess fat, then the make up will stay normally.
Action: this cream nourishes, soothes, hydrates, and removes all the peeling, scars from pimples, the pimples dries and cures (especially if you have a passion for squeezing).It also can be used as a lip balm, cause it quickly relieves dry and rough skin.
For combination skin this cream can be a little fatty, just apply to face a thin layer. For young skin it's a decent option, its ingredients are  natural, and it  does not contain skin stimulating age remedies. I advise everyone to buy it, the consumption of cream is small, but the effect is gorgeous.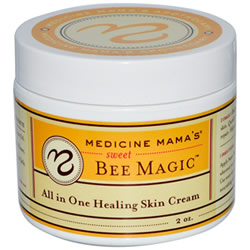 Medicine Mama's, Sweet Bee Magic, All In One Healing Skin Cream, 2 oz
It is a nutritious, pH-balanced, moisturizing cream. It's suitable for all skin types and ages. This cream is great for winter and mid-season, especially for those who has  the dry skin.
The cream contains only  safe and healthy ingredients: olive oil and vegetable glycerin deeply moisturize, nourish and soften the skin, prevent its dryness and dehydration, beeswax creates a  protective barrier on the skin's surface, but it  allows the skin  to breathe;
Honey works as a powerful antiseptic, anti-inflammatory, antibacterial, antimicrobial, antiviral, antifungal, analgesic, calming, soothing and healing remedy; Royal jelly, bee pollen and propolis extracts soothe, heal, tone, rejuvenate, invigorate, restore and rejuvenate the skin, helping restore its elasticity, reduce redness and inflammation, improves the complexion, evens the skin tone, regulate sebum production, stimulate collagen production, heal minor wounds, ulcers, cuts, abrasions, dry and chapped lips, bruises, bites, abscesses, burns, boils.
The texture of the cream is really unusual, it looks  like frozen honey, it just melts the hands. The fragrance is natural, softly expressed, many people dislike it. There is one drawback —this cream absorbs for a  long time (40 minutes). Before applying makeup, I recommend to wet face with a napkin. It is possible to apply this cream after mashing it in the hands, so a thin layer of the cream can be absorbed more quickly.
Action: in despite of  the heavy texture, the cream does not clog pores, it protects from frost, the skin becomes soft and smooth, are redness and irritation, improves complexion.
If you are allergic to bee products, this product is definitely not for you.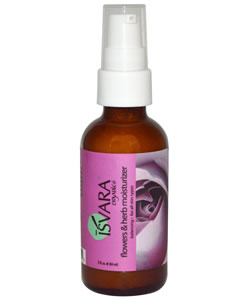 Isvara Orgsanics, Hydrating with flowers and herbs 3 FL oz (84 ml)
This is an extraordinary mixture, designed to balance and nourish the skin. It goes  for all skin types. This cream is  100% handmade. I would like to draw the attention of the combination or oily skin owners  whose skin is usually flaking on the cheeks in the cold season and is apt to inflame in the hot season.
The main feature of this cream is that it combines incompatible things — it's incredibly taking care  for the face — nourishes, moisturizes, tones the skin, it has a balancing action: where you need to moisturize and where you need to dry. The base cream: Rose water made from rose petals, it should be noted that it is suitable for all skin types, perfectly balancing its properties. Rose is used for vitality and rejuvenation. In ancient medicine, the rose is called the Queen of flowers, symbol of classic beauty.
Skin nutrition is due to bee's wax, organic oils of jojoba and olive, which do not clog the pores.
Lavender flowers, chamomile and white Jasmine are perfectly calm irritated skin, reduce its inflammation and redness, dried, and deeply moisturize, they  act as an antiseptic.
Thanks to citrus, we have the following advantages in the cream: the skin begins to develop intensively its own collagen and elastin, detain the aging process; components of citrus improve skin elasticity and increase blood circulation, tightens pores, tones micromusles, relieve swelling and inflammation, prevents rashes and acne, and antioxidant of citrus is removed from the skin toxins.
The texture of the cream is similar to butter that is slightly melted, white with a slightly yellowish tinge, squeezed in doses, but this dose can be adjusted by the pressure pump. enclosed in a glass bottle with dispenser Has a distant scent of roses.
5-10 min after application — no trace of the cream, as a result, you have just beautiful skin: perfectly matte, hydrated, without the film on it, tightened and nourished.
Foundation, mineral powder and concealer can be easily applied on it without any complaints.
When this cream is used during the day: it removes fine peeling, pores are narrowed, the face does not become oily for a long time.
When it is used at night: in the morning the skin looks less greasy than usual, more toned and well-groomed.
There are some useful tips on cosmetics use in winter
Any cosmetic product containing water, apply an hour before going outside, no less. Otherwise, the water contained in the cosmetic product, could not be absorbed into the pores it time and turn into ice particles, which are strongly cooling the surface of the skin. This will lead to disruption of metabolic processes and your skin will start to peel off.
When temperature is below 10 degrees, replace the water based makeup cream by that, which contains natural oils of animal or vegetable origin. Fat acts as a warming layer.
Nourishing cream, Foundation, create a protective layer and skin is not as exposed to the cold. Be sure to moisten the air in the room, Central heating enables the moisture deficit, so use the thermal water.
Oils help to soften rough skin: EMU, flax, olive oil, avocado oil, rosehip. It better to reduce the usage of peeling products
Heavy texture "winter" creams have one drawback – the skin underneath them almost not breathing. So, returning home, it is better to clean them immediately from the skin surface.
Do not use tap water, especially it is detrimental if it 's hot. Green tea is a good product. Wash with it instead of water.